According to the analyses of NASA and NOAA (National Oceanic and Atmospheric Administration) data, the long-term global warming trend continued in 2017. According to NASA, Earth's global surface temperatures in 2017 ranked as the second warmest since 1880. NOAA scientists concluded that 2017 was the third-warmest year in their record, in a separate, independent analysis. Both agencies' records remain in strong agreement: our planet is still getting warmer rapidly. The minor difference in rankings is due to the different methods used by the two agencies to analyze global temperatures. Both analyses also show that the five warmest years on record all have taken place since 2010.
According to NASA data, globally averaged temperatures in 2017 were 1.62 degrees Fahrenheit (0.90 degrees Celsius) warmer than 1951 to 1980 mean That is second only to global temperatures in 2016. However, 2017 was the warmest year without an El Niño. Earth's surface temperatures in 2017 were the second warmest since 1880, when global estimates first become feasible, NASA scientists found.
NOAA announced that "After three consecutive years of record-high temperatures for the globe, Earth was a slightly cooler planet in 2017. But not by much." 2017 was still the third warmest year, behind 2016 (warmest) and 2015 (second warmest) in NOAA's 138-year climate record.
According to NOAA, the average temperature across the globe in 2017 was 1.51 degrees Fahrenheit (0.84 °C) above the 20th-century average of 57 degrees Fahrenheit (13.89 °C). 2017 marks the 41st consecutive year (since 1977) with global land and ocean temperatures at least nominally above the 20th-century average. The six warmest years on record for the planet have all occurred since 2010.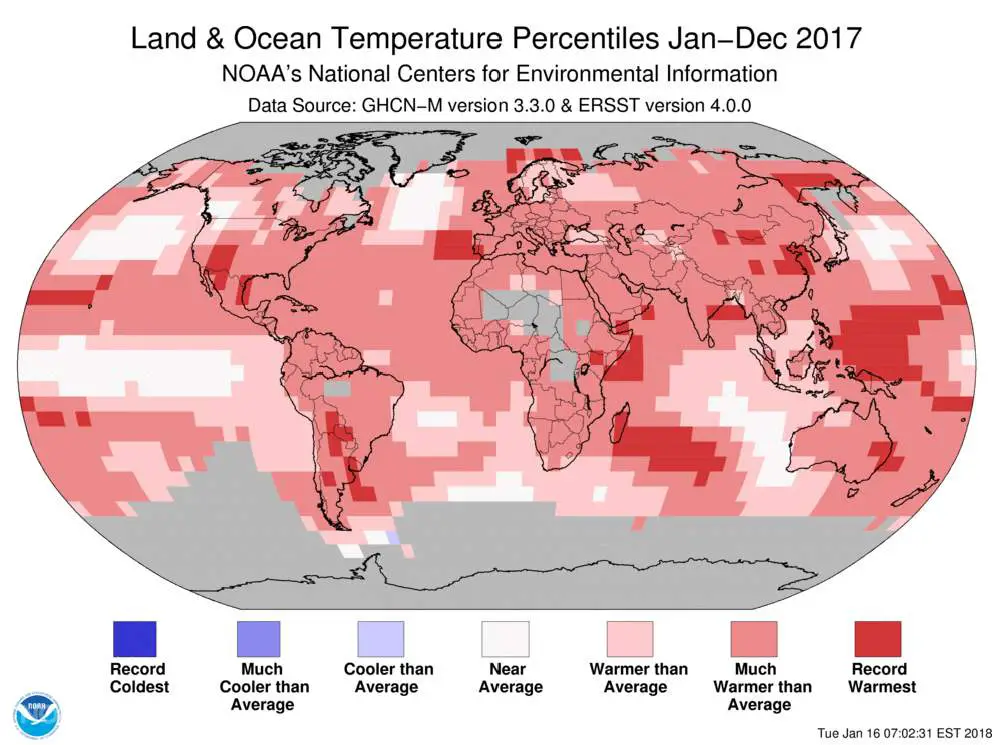 Analyses by other scientific organizations, like the United Kingdom Met Office and the World Meteorological Organization also ranked 2017 among the top three warmest years on record.
The state of sea ice
NOAA analysis suggests that the sea ice extent (coverage) at the poles remained low throughout the last year. Antarctica had a record-low extent in 2017, while the Arctic had its second-lowest ice coverage on record (after 2016).
A long-term global warming trend
The planet's average surface temperature has risen about 2 °F (a little more than 1 °C) during the last century or so, a change driven largely by increased carbon dioxide and other human-made emissions into the atmosphere. Warming trends are strongest in the Arctic regions.
NASA's temperature analyses incorporate surface temperature measurements from 6,300 weather stations, ship- and buoy-based observations of sea surface temperatures, and temperature measurements from Antarctic research stations.
These raw measurements are analyzed using an algorithm that considers the varied spacing of temperature stations around the globe and urban heating effects that could skew the conclusions. These calculations produce the global average temperature deviations from the baseline period of 1951 to 1980.
NOAA scientists used much of the same raw temperature data but with a different baseline period, and different methods to analyze Earth's polar regions and global temperatures.
Sources
"Long-term warming trend continued in 2017: NASA, NOAA" on Global Climate Change (NASA) Web Site
"NOAA: 2017 was 3rd warmest year on record for the globe" on NOAA.gov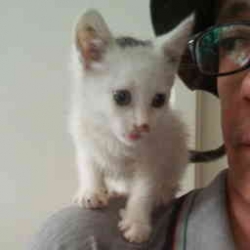 Latest posts by M. Özgür Nevres
(see all)