A microgrid is a small power grid with its own control capabilities, meaning it can operate independently from large traditional grids. They act as energy-efficient alternatives to primary sources that power large land areas throughout the world and help give underprivileged populations access to electricity, air conditioning, and other utilities.
How do microgrids work, and how have we used them to create a better world? Here are the basics of microgrids and some inspiring examples of what they can do.
How Does a Microgrid Work?
A microgrid is a localized grid with a hybrid generator connected to renewable energy reserves, such as solar panels, and a backup generator. This equipment enables microgrids to separate from the primary power grid in the area and remain functional. Builders can choose from three microgrid structures:
Remote: These microgrids are completely isolated from the main power grid and pair well with renewable energy resources.
Grid-connected: You can connect and disconnect this microgrid from the main power as needed.
Networked: The group, also known as "nested microgrids," is connected to the same central power source. They can power larger areas than remote or grid-connected systems.
Since microgrids operate on a smaller scale, they're more efficient, affordable, and dependable than expansive power grids. These qualities make them ideal for powering small communities in remote areas while minimizing environmental impact.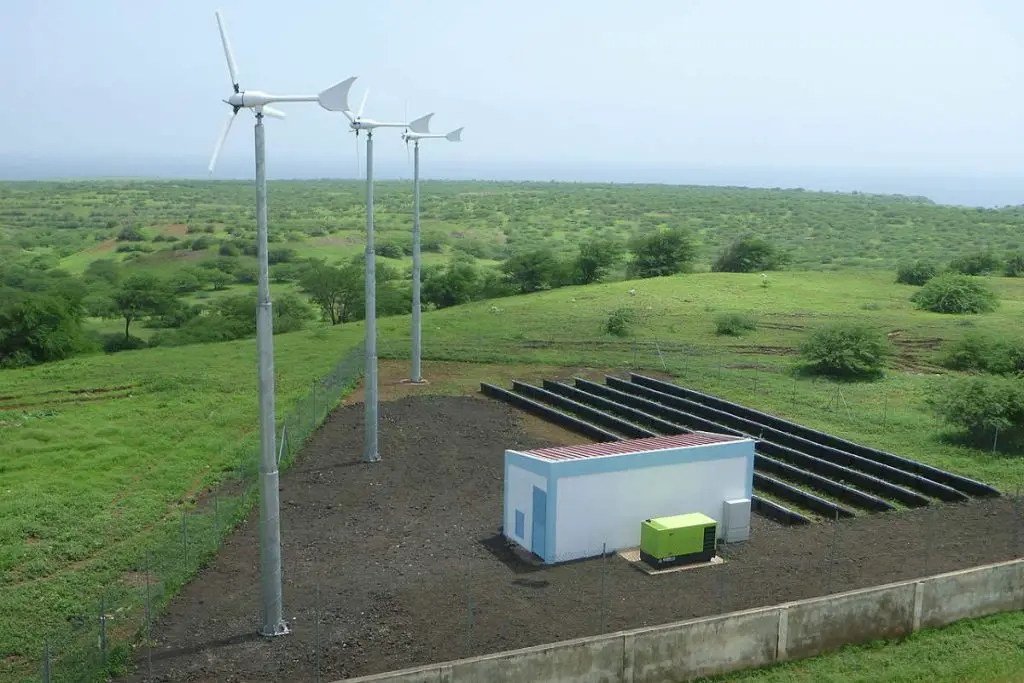 Inspiring Examples of Microgrids
There are several examples of microgrids changing the lives of remote and underprivileged communities worldwide.
1. Ta'U, American Samoa
Perhaps the most successful microgrid implementation exists on the American Samoa island of Ta'u, which now uses almost 100% renewable energy to power its island community.
Ta'u sits about 4,000 miles from the United States' West Coast. Its inhabitants used to extract power from diesel generators. Still, their remote location made shipping expensive and left them prone to frequent blackouts – not to mention diesel's harmful effects on the environment.
Electric vehicle manufacturer Tesla built a SolarCity microgrid to give the community energy independence and help preserve the island's beautiful environment. The microgrid generates 1.4 megawatts of solar power and 6 megawatt-hours of battery storage, allowing for reliable power both day and night.
Ta'u's inhabitants have spent most of their lives rationing diesel power, so SolarCity is a life-changing event for them. It has eliminated their diesel dependency, cut costs, and enabled them to carry on the traditional Samoan way of life.
2. Saint Lucia
Other islands in the Caribbean have received their own microgrids as part of the Rocky Mountain Institute Carbon War Room (RMI-CWR). This initiative came after several small island states spoke out during the 2015 Paris Climate Conference about their need for energy independence.
For example, Saint Lucia began building its first renewable energy grid in 2016 that would produce 3 megawatts of solar power – enough to power over 3,000 homes and reduce carbon emissions by 4,000 tons per year. The project remains a work in progress in 2022, with the U.S. Trade and Development Agency recently awarding the island a technical assistance grant to complete it.
3. Bright Indonesia Initiative
Southeast Asia has shown impressive progress in implementing microgrids, and Bright Indonesia is the shining example. Only 66% of its inhabitants had access to electricity, but that number has risen to 88% thanks to microgrids. Bright Indonesia's hybrid diesel-solar solution aims to bring 1 gigawatt to 12,000 villages in the vast but mostly rural tropical country.
COVID-19 and legal obstacles have set the project back, but private companies like General Electric have stepped in to support the cause with donations. Its microgrids remain under construction in 2022.
4. Power Africa – Beyond the Grid
Power Africa – Beyond the Grid is a sub-Saharan initiative that aims to bring 30,000 megawatts of clean electricity to 60 million homes in the region. The program has 40 global partners – including the U.S. government – that invested over $1 billion into its microgrids.
The initiative has gone well thus far, with 56 confirmed completed projects generating 3,481 megawatts for 14.8 million buildings, both domestic and commercial.
The project also played a key role in pandemic relief efforts, providing electricity to over 800 health facilities and donating $2.7 million to off-grid solar companies that powered 275 other hospitals.
5. Smart Power India
This recent microgrid project, launched in 2015 with a $20-million donation from the Rockefeller Foundation, seeks to provide 25 million Indian citizens with electricity across the impoverished states of Bihar, Jharkhand, and Uttar Pradesh. Although the project has not reached its target yet, momentum has started to build again with COVID-19 loosening its grip.
So far, 494 rural villages and 469,000 people have gained access to solar power, good for a 25% increase in electricity. The Rockefeller Foundation has also worked to decrease India's carbon emissions by over 21,000 tons in the last two decades – an important step in solving the country's glaring pollution problem.
Microgrids Help Shape the Future
Humanity must seek more practical energy sources with a lighter or nonexistent environmental impact. It must also provide basic necessities to developing nations and peoples worldwide, as is their human right.
Microgrids offer a solution to both problems and will help shape a more comfortable and sustainable future for millions of people for years to come.

Latest posts by Evelyn Long
(see all)