More than a year ago, on Monday, August 21, around 2 million to 7.4 million Americans traveled to see the first total solar eclipse in 99 years to go coast to coast in the United States. Photographer Jon Carmichael chose another way. He got aboard a Southwest Airlines aircraft and captured the Great American Total Solar Eclipse from an unusual vantage point at 39,000 feet (11,890 meters). And the result is probably the most beautiful Solar Eclipse photo ever.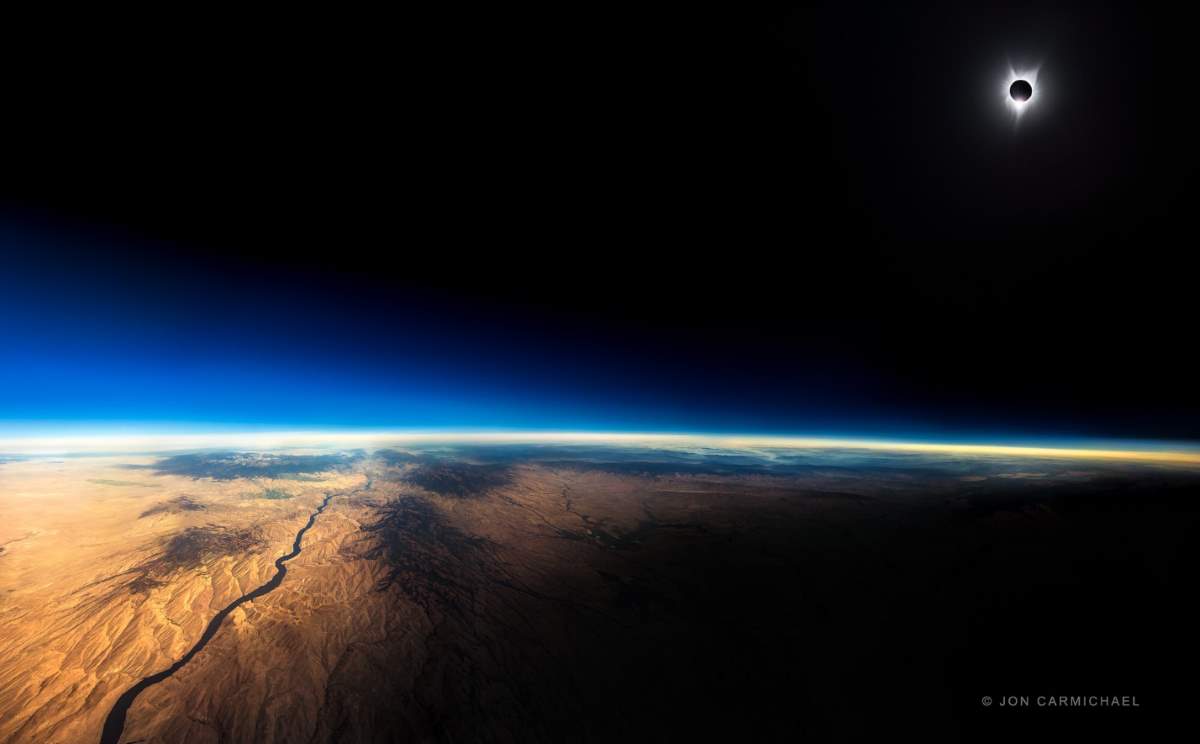 Carmichael shot over 1,200 photos in two minutes at 39,000 feet and managed to perfectly capture the total eclipse over Snake River, a major river of the greater Pacific Northwest region in the United States. He then spent almost a year to process the images into a giant photographic-mosaic titled 108. Limited edition prints of this wonderful image are now available for purchase via the photographer's website. The photos are laser-printed on crystal archival substrate with microscopic crystals on the surface. According to Carmichael, this unique material gives prints exceptional vibrancy, saturation, and a 3D quality when lit.
Carmichael says: "as a photographer, I've never taken on a project this complex – taken hundreds of hours of work. With my photography, a lot of it is very technical because I do what's called photo mosaic: you have to take hundreds of photos and then stick them all together so that it can be blown up and it's crystal clear and sharp."
"I've been spending the entire last 11 months, my whole life has just been focused on this image. This was the most photographed moment in history. It was one of the most beautiful things I've ever witnessed."
When Carmichael explained his mission to the flight crew, everybody teamed up to help him. Even the captain cleaned his window to ensure he'd have a crystal clear shot.
"I really needed a window seat. When I told the crew how much this means to me and showed them my photography, they were like "Ok, we got to help him get his shot'. Everybody teamed up, it was incredible. Even the captain went outside of the plane and washed my window for me. Then he made five 180-degree turns to help me get the shot. It was just one of the coolest experiences of my life."
Sources
This Image of the Total Eclipse Is Being Called "History's Most Amazing Photo" on My Modern Met
"This Eclipse Photo Was Shot from a Commercial Plane at 39,000ft" on PetaPixel
"This Is the Most Amazing Photo Ever Taken From a Commercial Airplane. Now, a Southwest Passenger Explains How He Did It" on Inc.com
I am a software developer, a former road racing cyclist, and a science enthusiast. Also an animal lover! I write about the planet Earth and science on this website, ourplnt.com. You can check out my social media profiles by clicking on their icons.
Latest posts by M. Özgür Nevres (see all)