"Slope Point" is the southernmost point of New Zealand's South Island. It lies 4803 km (2984 mi) from the South Pole and 5140 km (3194 mi) from the equator. It offers spectacular views of the surrounding ocean and coastline.
The place is regularly exposed to extreme weather conditions including heavy winds. The fierce and cold Antarctic winds can uninterruptedly travel over the Southern Ocean for 3200 km (2000 mi) and turn trees into strange but somehow beautiful statues.
It is about 24 kilometers (15 mi) from the small settlement of Waikawa, a small settlement at the mouth of the Waikawa River in Southland, New Zealand, at the southwestern edge of The Catlins. The Catlins (sometimes referred to as The Catlins Coast) comprises an area in the southeastern corner of the South Island of New Zealand. Its latitude, longitude is approximately 46.67 S, 169.00 E. There is no public access during the lambing season (September – November). "The Official Website of The Catlins" warns: "Please respect the animals and do not disturb the livestock (sheep and/or cattle) if present."
Today, Slope Point is predominantly used for sheep farming. According to the open-source encyclopedia Wikipedia, there are no houses anywhere nearby and no road to Slope Point; the only way to reach there is a 50-minute walk following dilapidated yellow markers. But, I read these words below on a cyclist's blog:
"…this was a long day and the last 10 or so kilometers were on a hilly gravel road. When we arrived at Slope Point Backpackers(see notes 1), the owner was great and sent us down the road to an old three-bedroom farmhouse they'd recently purchased. She even sold Eric a few bottles of beer."
So, it seems the land (or a piece of it) has an owner? and there is a farmhouse nearby. There is also a solar-powered lighthouse.
Notes
Slope Point Backpackers is an accommodation near Slope Point. Their website says that it only minutes away from forest walks, the Haldane Estuary, Slope Point, Curio Bay, Waipapa Point and walks along the rugged Catlin's coast. It's all here ready to be explored.
Sources
Slope Point on Wikipedia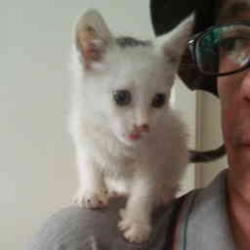 Latest posts by M. Özgür Nevres
(see all)