NASA's Global Ecosystem Dynamics Investigation (GEDI) on the International Space Station (ISS) beams laser light down to Earth to reveal the height and density of trees and vegetation.
The International Space Station (ISS) is sporting a new "light fixture". The Global Ecosystem Dynamics Investigation (GEDI) will beam down laser light on Earth from the orbiting laboratory to reveal more about our environment and how it is changing.
Launched to the station aboard SpaceX CRS-16 on December 5, 2018, GEDI sends laser pulses into tree canopies and precisely measures the light reflected back. The timing and intensity of light that bounces back to GEDI's telescope will reveal the height and density of trees, vegetation, and the vertical arrangement of the leaves and branches within the overall canopy.
Forested areas are an important part of our planet. Not only do forests provide a habitat for many species and a source of raw materials for human use, such as paper and lumber, they also play a key role in the Earth's carbon cycle. Deforestation and forest degradation, in addition to other types of forest disturbances such as fires and insect outbreaks, lead to increases in atmospheric carbon dioxide. Forest regrowth sucks that carbon back down into trees and soils.
Knowing how forests grow and change over time can allow us to better understand the contribution that forests make to Earth's carbon cycle and help people better manage this important resource. GEDI is the first space-borne instrument designed specifically to perform sustained mapping of the spatial distribution of the carbon content of forests.
Dr. Ralph Dubayah, GEDI principal investigator at the University of Maryland says: "One of the most poorly quantified components of the carbon cycle is the net balance between forest disturbance and regrowth. GEDI will help scientists fill in this missing piece by revealing the vertical structure of the forest — information we really can't get with sufficient accuracy any other way."
GEDI will provide scientists with insights into the amount of carbon stored in forests. When combined with current and historical records of changes captured by Earth-orbiting satellites such as Landsat, this information will enhance the ability of researchers to identify changes happening across our planet.
Researchers also will incorporate GEDI's observations, along with those of the ECOSTRESS instrument on the station, with data from other current and future Earth-observing sensors. These data will address important questions about relationships between forest structure, function, composition, and changes in carbon content.
Combining all of these data will allow researchers to gain an unprecedented understanding of ecosystem dynamics and the role plants and trees play in Earth's global carbon cycle. These new insights could be used, in turn, to improve models for forecasting future ecosystem changes, atmospheric carbon dioxide concentrations, and climate.
From the description of the video above:
The Global Ecosystem Dynamics Investigation (GEDI) is a lidar instrument that sends laser pulses down to Earth, where they penetrate the globe's temperate and tropical forests. The laser beams ricochet off the first thing they hit, which can be a leaf atop a dense canopy, a protruding branch, or the ground from which the forest emerges. The energy returned to the GEDI telescope on the International Space Station will provide and an intricate three-dimensional map of forest canopies.
"We can send out a little pulse of light and it travels down, reflects off the surface, and comes back," Bryan Blair, GEDI instrument scientist, and deputy principal investigator, said. "We can see and measure how tall the tree is and we can actually see how dense it is as we go down."
The GEDI instrument was built at NASA's Goddard Space Flight Center in Greenbelt, Maryland, and has the highest resolution and densest sampling of any lidar ever put in orbit. The mission is led by the University of Maryland and is designed to help researchers understand how ecosystems are storing carbon.
Music: Secret Science, by Lee Groves [PRS], Peter George Marett [PRS]; Team Effort, by Alexandre Prodhomme [SACEM], Eddy Pradelles [SACEM]
Credit: NASA's Goddard Space Flight Center
Matthew R. Radcliff (USRA): Lead Producer
Aaron E. Lepsch (ADNET Systems Inc.): Technical Support
Rob Andreoli (AIMM): Videographer
John Caldwell (AIMM): Videographer
Ralph Dubayah (University of Maryland): Scientist
Bryan Blair (NASA/GSFC): Scientist
Ralph Dubayah (University of Maryland): Interviewee
Bryan Blair (NASA/GSFC): Interviewee
Lisa Poje (Freelance): Animator
Walt Feimer (KBRwyle): Animator
GEDI: High-resolution laser ranging of Earth's forests and topography from the ISS
Ralph Dubayah, a professor of geographical sciences at the University of Maryland and the principal investigator of the GEDI mission says: "So often we talk about the biomass of the forest. All that is how much do the trees weigh. If you know their biomass, how much they weigh, half of the biomass of the tree is the carbon."
"It is really critical that we understand what the current carbon content of forests is today. We need a good global map of where the carbon is."
"The reason we need that is that whenever we cut down trees, we're going to release carbon into the atmosphere. And we don't know how much carbon we are releasing."
"GEDI will tell us how tall the trees are. By knowing how tall they are, we will know how much they weigh, and by knowing how much they weigh we will know how much carbon is being lost into the atmosphere."
Bryan Blair (NASA/GSFC) says: "GEDI weighs about a thousand pounds (454 kg) and looks like a refrigerator. It has a telescope of about 80 cm (31 in) in diameter. It has three laser ports and shoots out four laser beams that are then dithered, really quickly, in between shots. It makes one laser look like two."
"So GEDI is a laser altimeter. We have lasers that emit pulses of light, they travel down to the Earth, they get reflected from the Earth, and then we receive the reflection."
"We time how long it gets there, which allows us to measure the range to the surface. When the pulse of light hits the surface, it gets distorted and stretched out by any structure that is there."
Dubayah explains: "It looks almost like an echocardiogram. It's a distorted Gaussian waveform, technically speaking. And where the amplitude of that waveform is bigger, there's more canopy stuff. There are more leaves and branches at a particular height."
Blair adds: "The overall goal of GEDI is to systematically and consistently sample the vertical structure of the world's forests. So we can estimate from that structure, the carbon content of the forest."
Trees in Your Own Backyard may also be measured by the GEDI
Dubayah says: "One of the coolest things about GEDI is that we're going to get up to 10 billion estimates of how tall the trees are. It's highly likely that trees on your block are going to be measured by GEDI and you'll be able to see how tall they are. You can take your kids down your block and say, 'hey, GEDI measured that tree.'"
All GEDI data products are available for free download.
Sources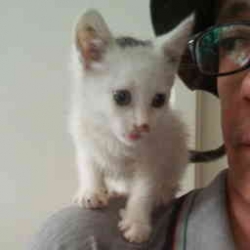 Latest posts by M. Özgür Nevres
(see all)