NASA Astronaut Andrew Jay "Drew" Feustel, who is currently living and working aboard the International Space Station, published a photo on his Twitter account with a replica of the "Moon Landscape" drawing by Holocaust victim Petr Ginz to honor Holocaust Remembrance Day (Yom HaShoah). The replica of the painting was first flown in space by Ilan Ramon (June 20, 1954 – February 1, 2003), the first Israeli astronaut for NASA. Ramon has died in the re-entry accident of STS-107, the fatal mission of the Space Shuttle Columbia. Ilan Ramon's mother and grandmother were Auschwitz survivors, and his grandfather and other family members perished in Nazi death camps.
Feustel took with him to space a copy of a special drawing entitled "Moon Landscape", which was created by a Jewish Czech boy named Petr Ginz (1 February 1928 – 28 September 1944) while incarcerated in Terezin, Czechoslovakia, during World War II. The drawing depicts how Earth would look from the surface of the moon. Petr was fascinated by science fiction and inspired by his favorite author, the French novelist, poet, and playwright Jules Verne (8 February 1828 – 24 March 1905), to draw and write stories about a far-off world he would never visit. At the age of 16, Petr lost his life at Auschwitz.
Feustel wrote: "On Holocaust Remembrance Day I'd like to join people around the world who are commemorating those whose lives were lost. Petr Ginz, a Czech boy who perished at Auschwitz, brilliantly depicted how the Earth would look from the Moon in this illustration."
Each astronaut gets a small amount of cargo space so they can bring items of personal significance with them for their mission in space. Astronauts frequently bring along pictures of loved ones and other mementos. Feustel included the replica image among his personal items.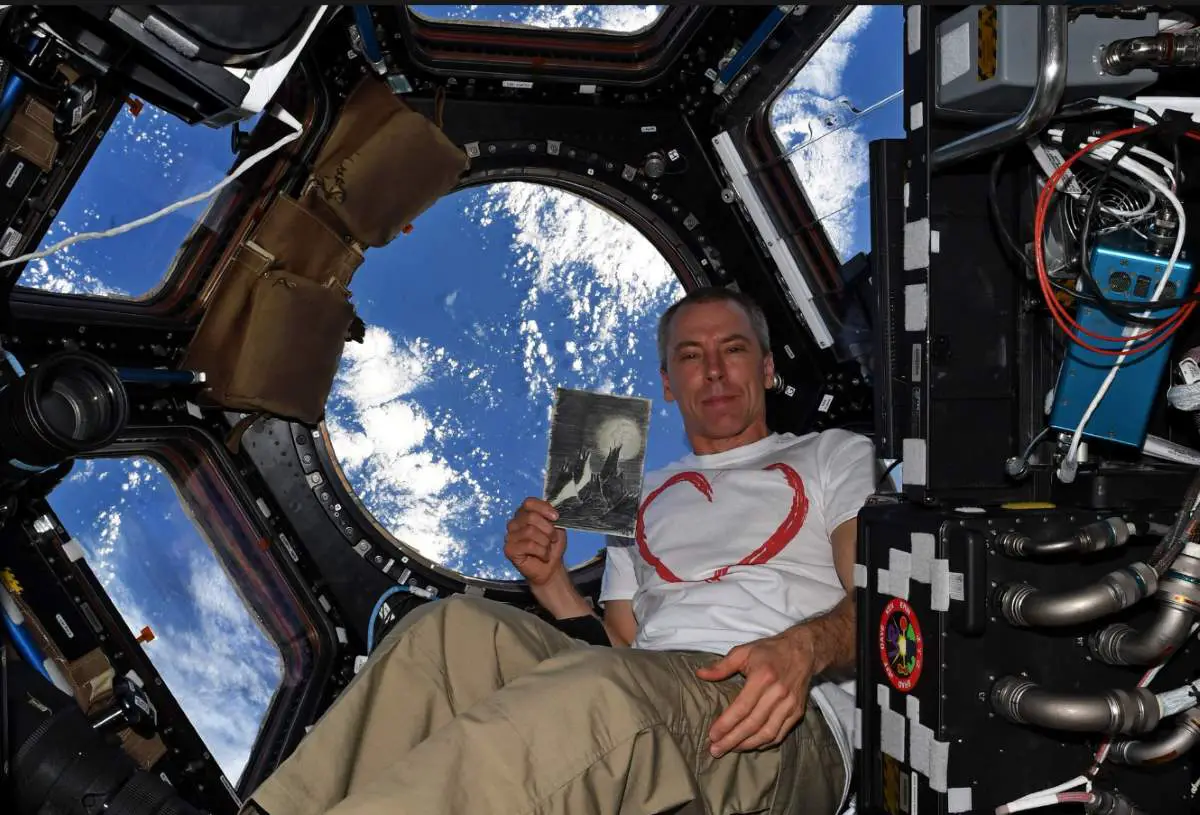 Petr Ginz and "Moon Landscape" Painting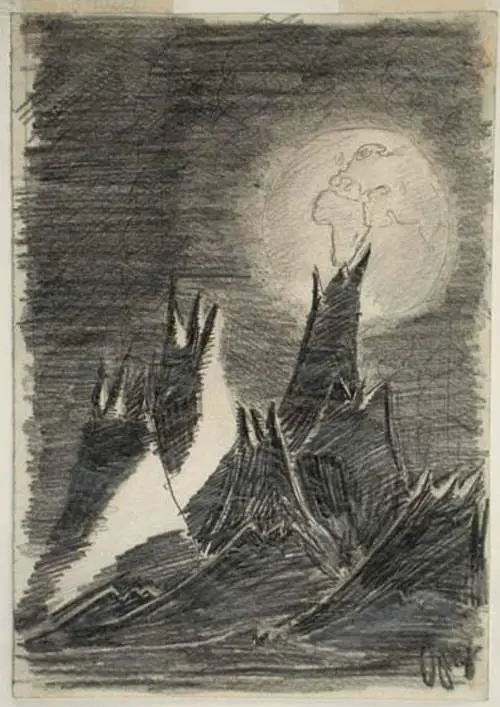 Petr Ginz (1 February 1928 – 28 September 1944) was a Czechoslovak boy of partial Jewish background. He was a very intelligent boy: he was interested in the sciences and yearned for knowledge. Between the ages of 8 and 14, he wrote 5 novels: "From Prague to China", "The Secret of the Devil's Cave", "The Wizard from Altay Mountains", "Around the World in One Second" and "A Visit from Prehistory" (the only surviving novel today). The novels were written in the style of his favorite author, Jules Verne, and illustrated with his own paintings.
But those were horrible years. According to the anti-Jewish laws of the Third Reich, children from mixed marriages were to be deported to a concentration camp at the age of 14. Young Petr was transported to the Theresienstadt concentration camp in October 1942. He was still reading and trying to learn – even in the concentration camp, he was studying science. He often read from the library full of confiscated books to which he had access.
The picture above, "Moon Landscape", was drawn by Ginz during his incarceration in the Theresienstadt ghetto. The original picture is part of the Yad Vashem Museum collection.
Unfortunately, Petr Ginz was assigned to one of the last transports to Auschwitz concentration camp, where he died in the gas chambers in 1944.
Ilan Ramon was asked by S. Isaac Mekel, director of development at the American Society for Yad Vashem, to take an item from Yad Vashem onto the American Space Shuttle Columbia. Ramon carried with him a copy of a drawing by Ginz of the planet Earth as seen from the moon.
The shuttle, while reentering Earth's atmosphere, broke apart on February 1, 2003, destroying the copy of Ginz's drawing on what would have been his 75th birthday. In 2018, 15 years after the Columbia shuttle disaster, another copy was given by Yad Vashem to Ilan's widow, Rona, to give to NASA astronaut Andrew Feustel. Feustel carried it to space during Expedition 56 in the memorial of Petr Ginz and Ilan Ramo.
On #HolocaustRemembranceDay I'd like to join people around the world who are commemorating those whose lives were lost. Petr Ginz, a Czech boy who perished at Auschwitz, brilliantly depicted how the Earth would look from the Moon in this illustration. https://t.co/oOD3o0p7Zb pic.twitter.com/Tif5FiI2ZU

— A.J. (Drew) Feustel (@Astro_Feustel) April 12, 2018

Faustel's tweet about Petr Ginz,
Sources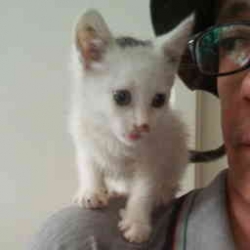 Latest posts by M. Özgür Nevres
(see all)