Earth has a mild climate, which enables the life on its surface. But there are some places that exist which probably you won't want to be there, at least uncovered. Here are the hottest and coldest places on our planet.
The hottest places on Earth
Record high: Furnace Creek, Death Valley, USA
Death Valley's Furnace Creek (a census-designated place in Inyo County, California) holds the record for the highest reliably recorded air temperature in the world, 134 °F (56.7 °C) on July 10, 1913.
The village, which has a population of only 24 (as of 2010), also may holds the record of the highest natural ground temperature ever recorded: 201 °F (93.9 °C) was recorded on July 15, 1972.
From 1911 through 2006, Furnace Creek had an average high temperature of 91.4 °F (33.0 °C) and an average low temperature of 62.9 °F (17.2 °C). During that time period, the hottest month was July with an average daily high temperature of 116.5 °F (46.9 °C) and the driest month was June with an average monthly precipitation of 0.05 in (1.3 mm).
Probably, this record temperature has been exceeded since then in many places on earth, but we have no official records of the temperatures.
'Aziziya? (sometimes spelled El Azizia)
The air temperature of 136° F / 57.8° C was recorded by a meteorological station in 'Aziziya (a small town and it was the capital of the Jafara district in northwestern Libya) in 1922. This was long considered the highest air temperature ever measured on Earth. But, On 13 September 2012, the World Meteorological Organization announced that the WMO Commission of Climatology World Archive of Weather and Climate Extremes had found that the record was invalid, so record went back to the Furnace Creek. The reasons of WMO were:
The weather station was first in 'Aziziya town, but, in 1919, it was moved to a hilltop fort, where the weather station was set up on black tarmac, which would have absorbed more sunlight and made the air there artificially hotter, explaining a period of very hot readings there from 1919 to 1928.
Shortly before the record reading on 13 September 1922, the weather station's usual maximum thermometer had been damaged and then replaced by an uncalibrated, ordinary maximum-minimum thermometer such as often used in greenhouses.
On 11 September 1922, the usual record keeper was replaced by an inexperienced observer, who was untrained in the use of the thermometer and the record log. This is known by the change in handwriting on the log sheets and by the high and low temperatures being recorded in the wrong columns. The thermometer used sliding colored cylinders to record maximum and minimum temperatures, and these cylinders were about 7 to 8 degrees Celsius long on the thermometer scale. The WMO now believes that the inexperienced observer was reading from the wrong end of the high-temperature cylinder inside the thermometer, getting a reading which was 7 to 8 degrees too high.
The hottest Inhabited Place: Dallol, Ethiopia
Dallol was a settlement in the Dallol woreda of northern Ethiopia. It still holds the official record for record high average temperature for an inhabited location on Earth: the annual mean temperature was recorded from 1960 to 1966 as 34.4 °C (93.9 °F). The average daily maximum temperature during the same period was 41.1 °C (106.0 °F).
The Central Statistical Agency (an agency of the government of Ethiopia designated to provide all surveys and censuses for that country) has not published an estimate for this settlement's 2005 population; it has been described as a ghost town.
The Dallol volcano is close to the settlement, which is in our lesser-known natural wonders list.
The hottest cities
Most sources pick Ahvaz (Iran) and the Kuwait city as the hottest cities on Earth.
Ahvaz is consistently one of the hottest cities on the planet during the summer, with summer temperatures regularly at least 45 degrees Celsius, sometimes exceeding 50 degrees Celsius with many sandstorms and dust storms common during the summer period.
In Kuwait City, Summer temperatures regularly exceed 45 °C (113 °F), and temperatures over 50 °C (122 °F) are not uncommon in the summer. In the summer of 2014, Kuwait City hit 52 °C (125.6 °F).
The coldest places on Earth
Record low: Vostok Station, Antarctica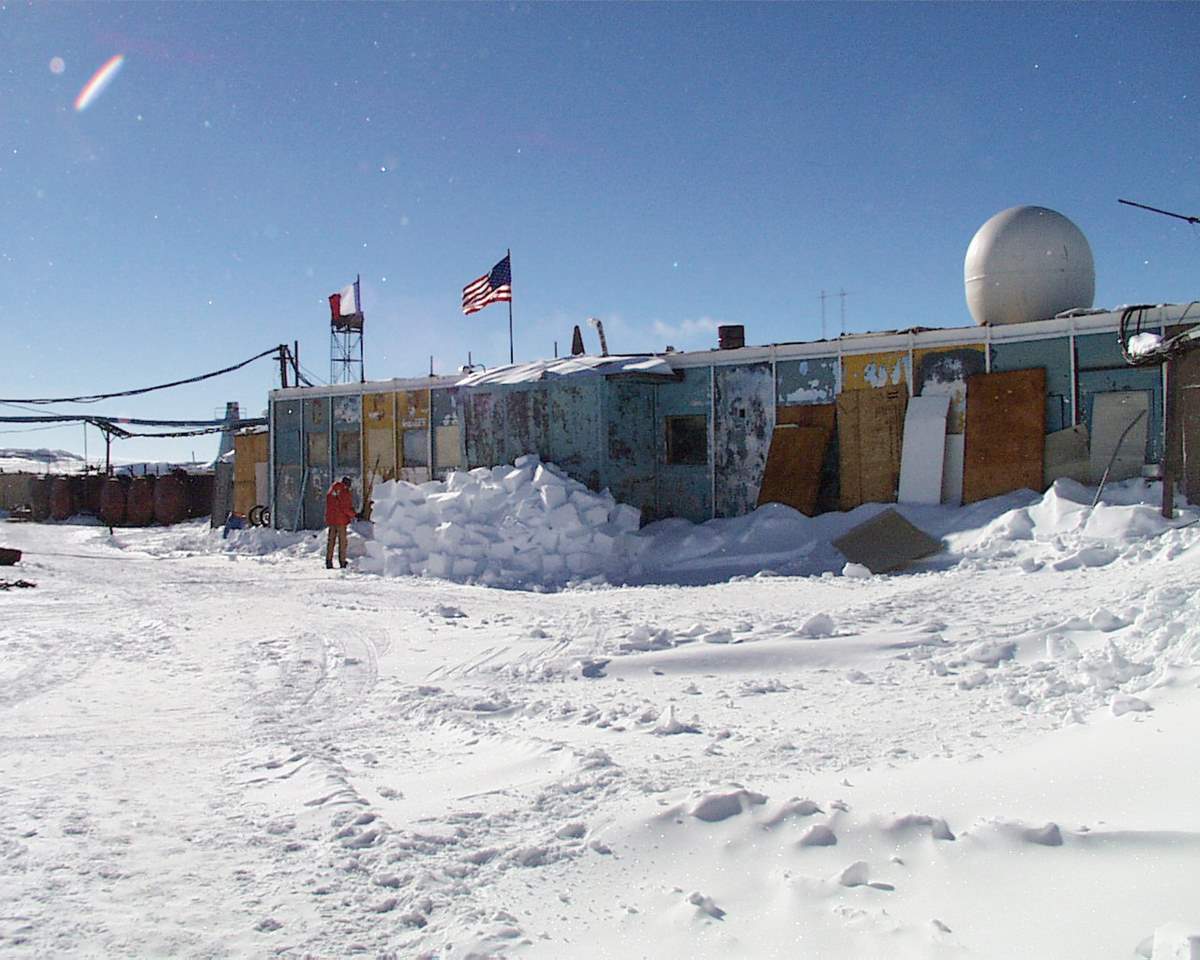 Vostok Station (means "Station East" or "East Station" in English) is a Russian (formerly Soviet) research station in inland Princess Elizabeth Land, Antarctica. Founded by the Soviet Union in 1957, it is by far the coldest spot on earth, with the lowest recorded temperature at -89.2 °C (-128 °F) on July 21, 1983 (during the Antarctic winter).
On average, Vostok also is the coldest place on Earth. The average temperature of the cold season (from April to October) is about -65 °C (-85 °F), while the average temperature of the warm season (from November to March) is about -42 °C (-44 °F).
Update (June 27, 2018) – New record low: -98 °C (-144.4 °F)
After re-examining weather data acquired by satellites for East Antarctic Plateau, researchers have found that temperatures at several sites had actually dipped lower than previously thought, to a record-setting minus 98 degrees Celsius (minus 144 degrees Fahrenheit) on several occasions between 2004 and 2016. The results are published in the journal Geophysical Research Letters.
"The lowest measured air temperature on Earth is -89.2°C (-129 F) on 23 July 1983, observed at Vostok Station in Antarctica (Turner et al., 2009). However, satellite data collected during the Antarctic polar night during 2004-2016 reveals a broad region of the high East Antarctic Plateau above Vostok that regularly reaches snow surface temperatures of -90°C and below. These occur in shallow topographic depressions near the highest part of the ice sheet, at 3800 to 4050 m elevation.
Comparisons with nearby automated weather stations suggest that air temperatures during these events are near -94±4°C, or about -138 F. Ultra-cold conditions (below -90°C) occur more frequently when the Antarctic polar vortex is strong. This temperature appears to be about as low as it is possible to reach, even under clear skies and very dry conditions, because heat radiating from the cold clear air is nearly equal to the heat radiating from the bitterly cold snow surface."
Coldest inhabited place: Oymyakon (Russia)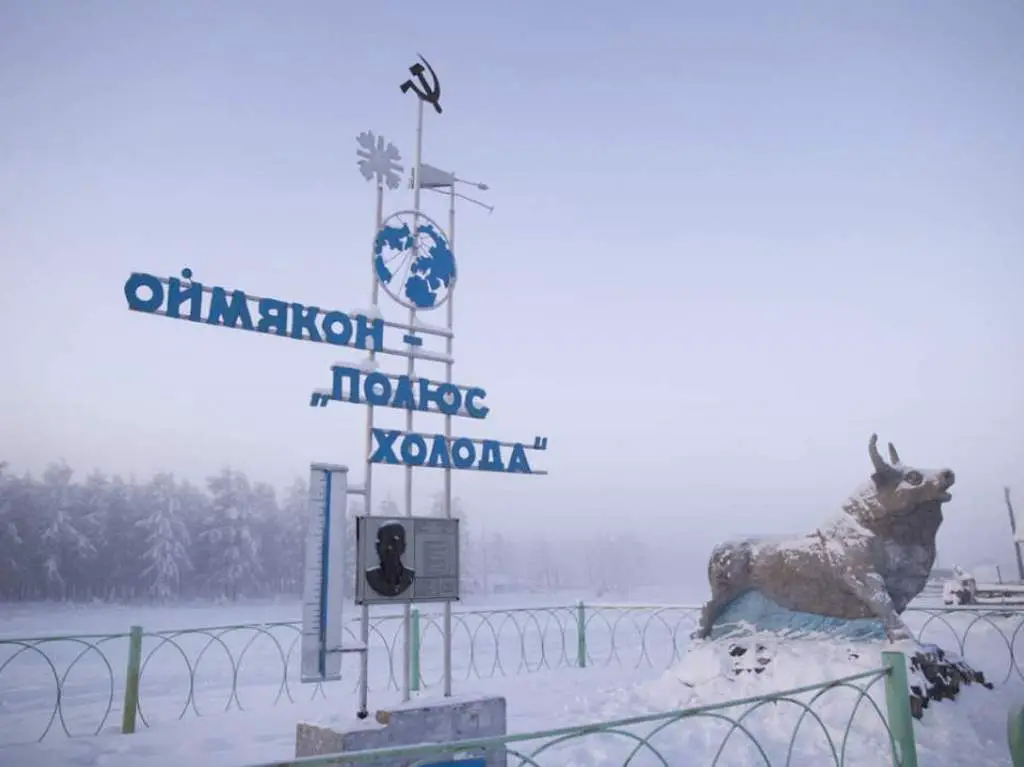 Oymyakon, a village in Oymyakonsky Ulus of the Sakha Republic, the Russian Federation, located along the Indigirka River, is considered as the coldest inhabited place on Earth. On February 6, 1933, a temperature of -67.7 °C (-90 °F) was recorded at Oymyakon's weather station. This is, along with the same reading at Verkhoyansk, the lowest recorded temperature for any permanently inhabited location on Earth.
In Oymyakon the average minimum temperature for January, February, and December remains below -50 °C (-58 °F). But despite the harsh, long winters, summers are mild, sometimes with hot, and very hot, days. July and August temperatures over 30 °C (86 °F) are not rare during the day. On July 28, 2010, Oymyakon recorded a record high temperature of 34.6 °C (94 °F), yielding a temperature range of 102.3 °C (184.1 °F).
So, Eureka, Nunavut, Canada has the lowest annual mean temperature at -19.7 °C (-3.5 °F).
The coldest city on Earth: Yakutsk (Russia)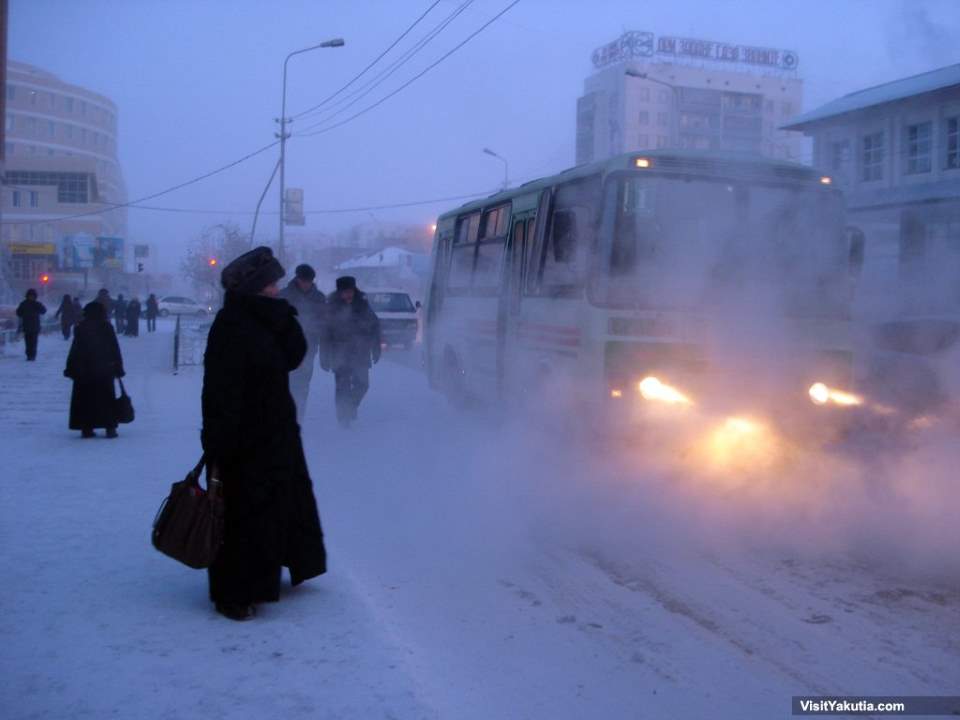 Yakutsk is the capital city of the Sakha Republic, Russia, located about 450 kilometers (280 mi) south of the Arctic Circle which has a population of 269,601 (2010 Census). Yakutsk is the coldest major city in the world. If the 3 million km2 Sakha Republic were a sovereign nation, rather than a federal subject of Russia, it would be the coldest national capital as well (now it is Ulaanbaatar, the capital of Mongolia).
In Yakutsk, average monthly temperatures range from +19.5 °C (67.1 °F) in July to -38.6 °C (-37.5 °F) in January. The lowest temperature recorded in Yakutsk was -64.4 °C (-83.9 °F) and the highest was +38.4 °C (101.1 °F).
Sources
Latest posts by M. Özgür Nevres
(see all)