In the last few years, a series of photos circulating over the Internet via email and online, usually with the title of "Man Who Befriended a Great White Shark", showing close encounters between a man and a great white shark. The websites that publish these photos (and sometimes PowerPoint presentations) claim that an Australian fisherman named Arnold Pointer once freed a great white shark from a fishing net, and the shark has followed him around ever since.
Yes, sometimes -very rarely- that kind of unique friendship between a man and a wild animal do occur. But not this time. The photos attached to the story are real, but the story itself is a hoax. It's actually an April Fools joke from the French magazine "Le Magazine des Voyages de Pêche" (English: Fishing Travel Magazine), from the issue of April 2006.
The pictures are in fact authentic but collected from different and unrelated sources. The magazine put them together to create a fake story: the fisherman accidentally caught a large female white shark in one of his fishing nets and instead of killing her, he set her free and named her Cindy. From that day forward, the shark followed Arnold every time he set out to sea.
A Real Photo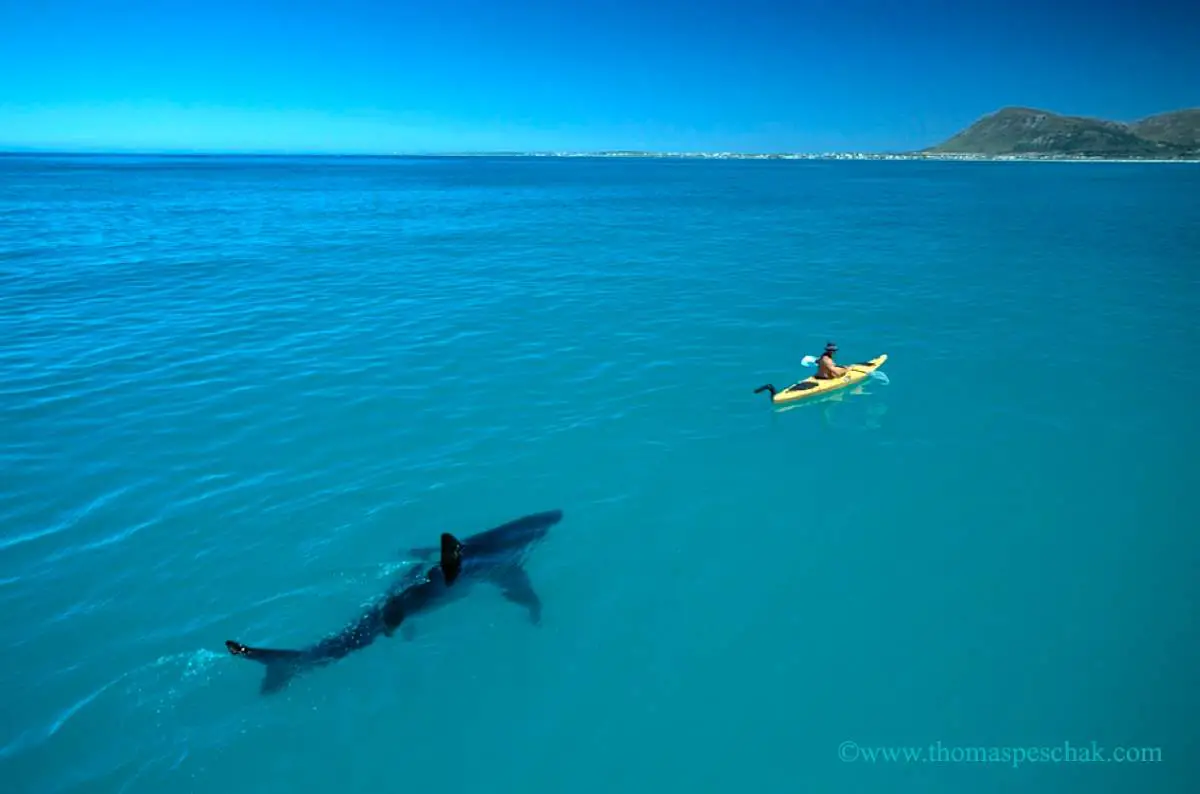 The main photo of the story, showing a kayak being followed by a huge 15-foot (4.5 m) great white shark is real. It was taken by award-winning photographer Thomas P. Peschak off the coast of South Africa.
Peschak says "when the photograph was first published, it attracted more than 100,000 visitors to my website in 24 hours". According to Peschak, "many thought the photo was a digital fake, and to date, there are still hundreds of websites that debate its authenticity."
The photo has circulated widely on the Internet along with speculation that if it was Photoshopped or faked. Then things started to go crazy. The original photo was photoshopped many times to create fake stories. For example, after Hurricane Irene battered the Caribbean island of Puerto Rico in late August 2011 and flooded many streets, the shark from the original photo used in a fake image showing a great white shark swimming beside cars.
That fake image then started being circulated on the internet and media: according to Huffington Post, it appeared on EgoTV with the caption: "This picture was taken in Puerto Rico shortly after Hurricane Irene ravaged the island." Even funnier, the authorities in NYC were warning people not to go swimming in floodwaters after a hurricane. Once, it was used in a TV bulletin on Channel 7 News Miami. It was resurfaced again in June of 2012 when a shark tank supposedly burst in a popular mall in Kuwait.
After Hurricane Sandy, the deadliest and most destructive hurricane of the 2012 Atlantic hurricane season, and the second-costliest hurricane in the United States history, the very same shark made the same appearance outside a car window in the flooded streets of New Jersey.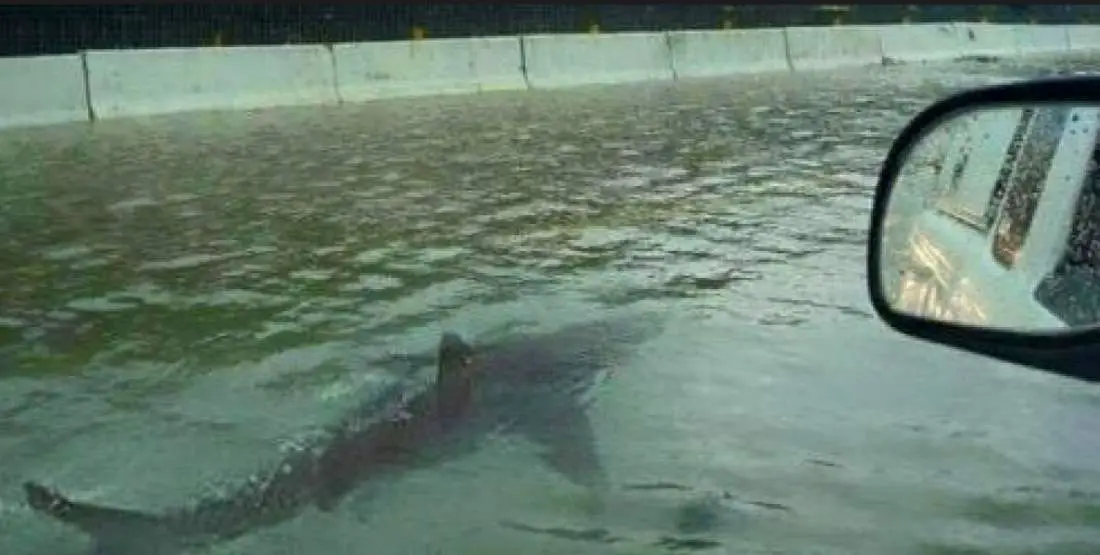 Fake story of a man who befriended a great white shark
The story goes like that:
"The French Magazine 'Le magazine des voyages de pêche' in its 56th edition, brought up an amazing news: An astonishing love story."
"Arnold Pointer a professional fisherman from south of Australia set free from a certain death a big female White Shark that was caught in his fishing nets. Now the fisherman has a problem: He says: "It's been 2 years and she doesn't leave me alone. She follows me everywhere I go and her presence scares all the fishes. I don't know what to do anymore."
"It is hard to get rid of an almost 17 feet long shark since the White Sharks are protected by the wildlife conservation, but a mutual affection established between Arnold and 'Cindy'".
"Arnold Says: 'Once I stop the boat she comes to me, she turns on her back and let me pet her belly and neck, she grunts, turn her eyes, and move her fins up and down hitting the water happily…'"
"A shark, a man, and a thankful heart for saving MY LIFE."
In the video above, after the famous "shark following a kayak" photo, the man who touches a great white shark is Michael Scholl, founder of the White Shark Trust in South Africa, "a non-profit organization founded in 2002 to promote and conduct research, education and conservation projects on the endangered Great White Shark". They offer opportunities for field research for those interested in great white sharks including first-hand encounters with sharks that are lured to the research boats. Some of the sharks are known to curiously hang around and allow themselves to be touched.
Funny thing is, even in the video you can see a watermark saying "Michael Scholl copyright". But, before that, the video says it was an "Incredible Shark/Human love story" between an Aussie fisherman "Arnold Pointer" and a great white shark that he freed from fishing nets. Somehow, Arnold Pointer becomes Michael Scholl but it seems most of the people watching this video didn't notice that. The comments section of the video contains tragicomedy.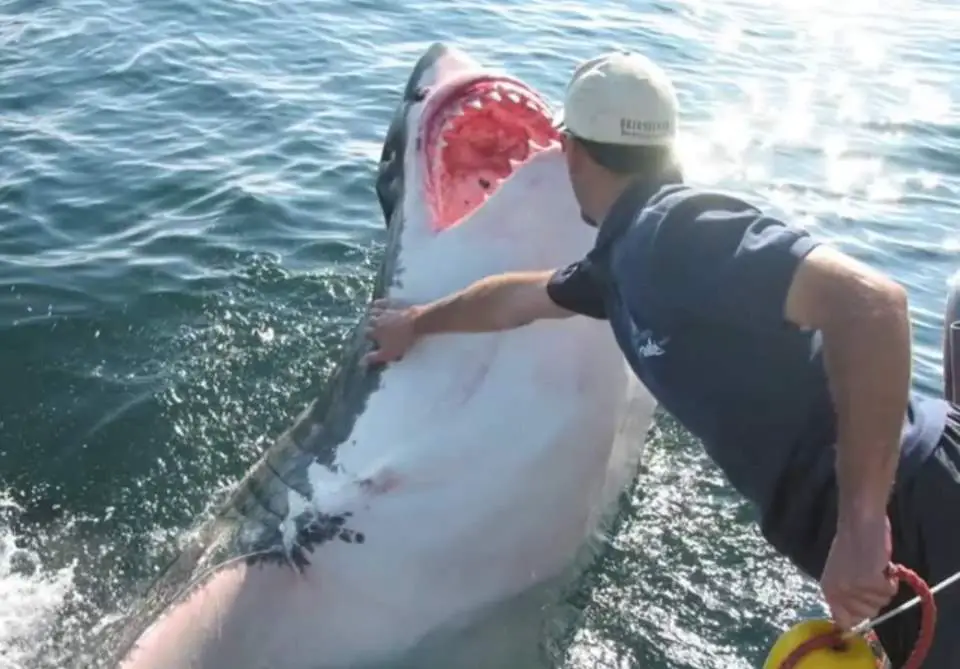 The final picture of the leaping shark is a frame from the BBC television series Planet Earth.
The legend goes on
Thomas Peschak says on his website that: "I always look forward to receiving e-mails from friends and family who have spotted the same white shark in a different context. While I will probably never become a legend in my own right, at least my white shark is well on her way."
A real story
Here is a real story of a man who befriended with a shark – Not a great shark, though.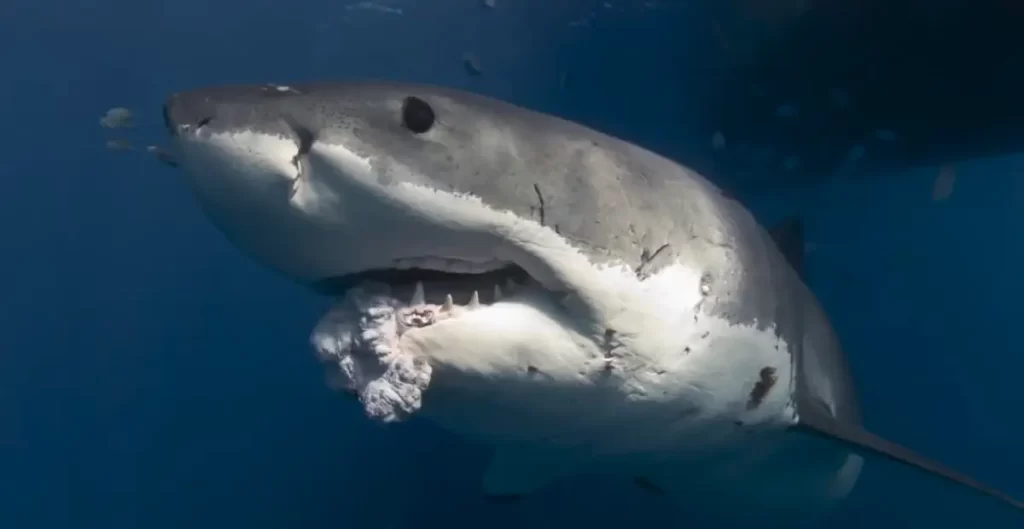 Sources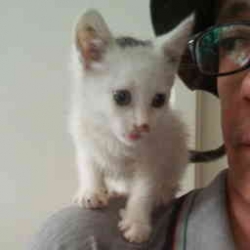 Latest posts by M. Özgür Nevres
(see all)