Around 4 millions year ago, the ancestors of humans and chimpanzees diverged, genetic evidence suggests. What, if the chimpanzee-human last common ancestor (see notes 1) would suddenly die before giving birth to any babies? What would the Earth be like if humans never existed?
Researchers from Aarhus University in Denmark demonstrated that the Earth without humans would resemble Serengeti (see notes 2), a geographical region in Africa that hosts the largest terrestrial mammal migration in the world.
The researchers also released a world map of how animal diversity should be. Even Europe would probably be home to animals like elephants and rhinoceroses. Today, only Africa (and only in some places like Serengeti) has such a high density of mammals – but it is not due to the ideal climate and environment. The research suggests that the animal diversity we see today largely reflects past human activities.
Professor Jens-Christian Svenning at the Department of Bioscience at Aarhus University says: "Northern Europe is far from the only place in which humans are reduced to the diversity of mammals, it's a worldwide phenomenon, and in most places, there's a very large deficit in mammal diversity relative to what it would naturally have been."
What if humans never existed?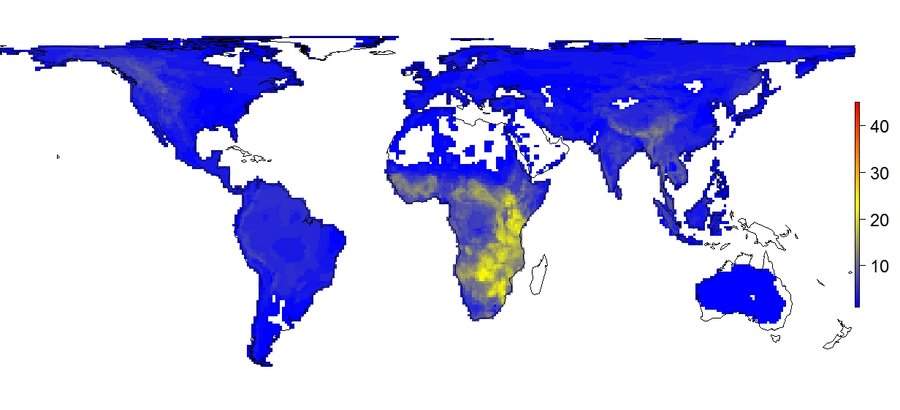 The lead author on the study, Postdoctoral Fellow Søren Faurby, Department of Bioscience, Aarhus University explains: "Most safaris today take place in Africa, but under natural circumstances, as many or even more large animals would no doubt have existed in other places, e.g. notably parts of the New World such as Texas and neighboring areas and the region around northern Argentina-southern Brazil. The reason that many safaris target Africa is not that the continent is naturally abnormally rich in species of mammals. Instead, it reflects that it's one of the only places where human activities have not yet wiped out most of the large animals."
"The current high level of biodiversity in mountainous areas is partly due to the fact that the mountains have acted as a refuge for species in relation to hunting and habitat destruction, rather than being a purely natural pattern. An example in Europe is the brown bear, which now virtually only lives in mountainous regions because it has been exterminated from the more accessible and most often more densely populated lowland areas".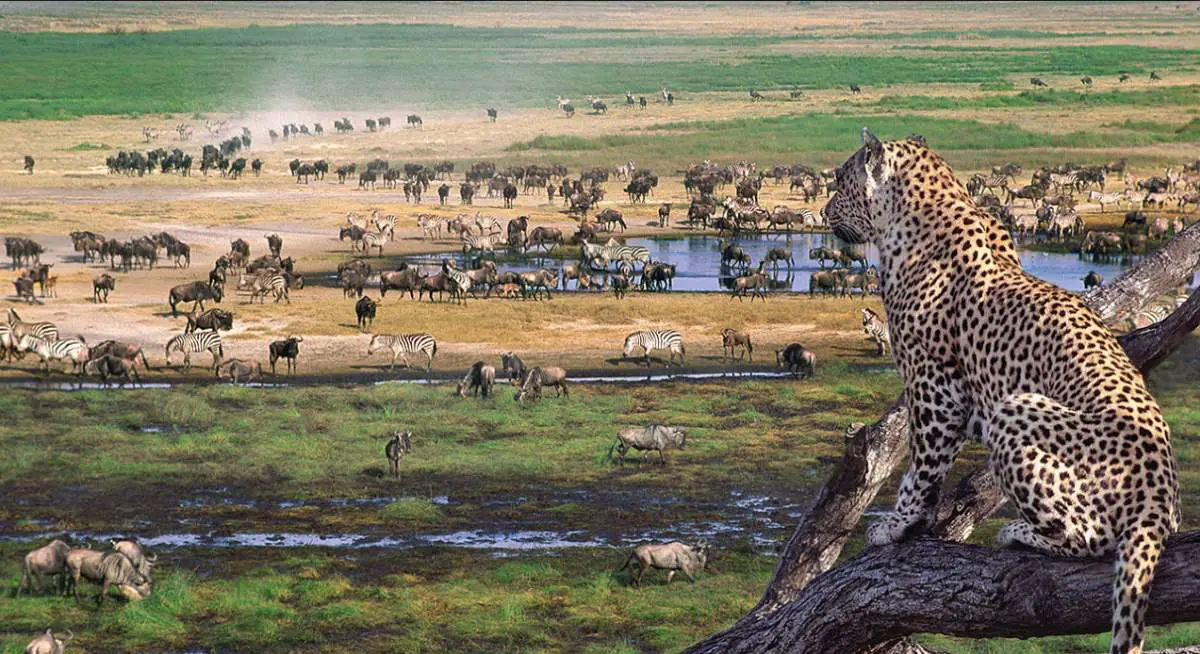 Notes
The chimpanzee-human last common ancestor, or CHLCA, is the last common ancestor shared by the extant human and Pan (chimpanzee) genera of Hominini. Due to complex hybrid speciation, it is not possible to give a precise estimate of the age of this ancestral individual. While "original divergence" between populations may have occurred as early as 13 million years ago (Miocene), hybridization may have been ongoing until as recent as 4 million years ago (Pliocene).
The Serengeti hosts the largest terrestrial mammal migration in the world, which helps secure it as one of the Seven Natural Wonders of Africa and one of the ten natural travel wonders of the world. It is located in northern Tanzania and extends to south-western Kenya. The Serengeti is also renowned for its large lion population and is one of the best places to observe lion prides in their natural environment. The region contains the Serengeti National Park in Tanzania and several game reserves. Approximately 70 large mammal and 500 bird species are found there. This high diversity is a function of diverse habitats, including riverine forests, swamps, kopjes, grasslands, and woodlands. Blue wildebeests, gazelles, zebras, and buffalos are some of the commonly found large mammals in the region.
Sources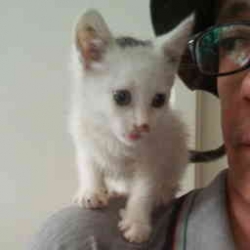 Latest posts by M. Özgür Nevres
(see all)