When you think of the Grand Canyon or the Great Smoky Mountains, beautiful scenery immediately comes to mind. You might begin to imagine the incredible views, towering cliffs, lush landscapes and color schemes that far exceed anything you've ever seen in a painting.
Perhaps you're one of the millions that have been able to personally experience the magic of these National Parks. In 2018 alone, the Grand Canyon and the Great Smoky Mountains received over 6 million and 11 million visitors respectively. It's incredible to see so many people take an interest in the natural wonders of our planet. One might assume opting for a vacation oriented around nature makes for more sustainable travel plans. Taking your friends or children to visit a National Park encourages them to respect and cherish the environment, right?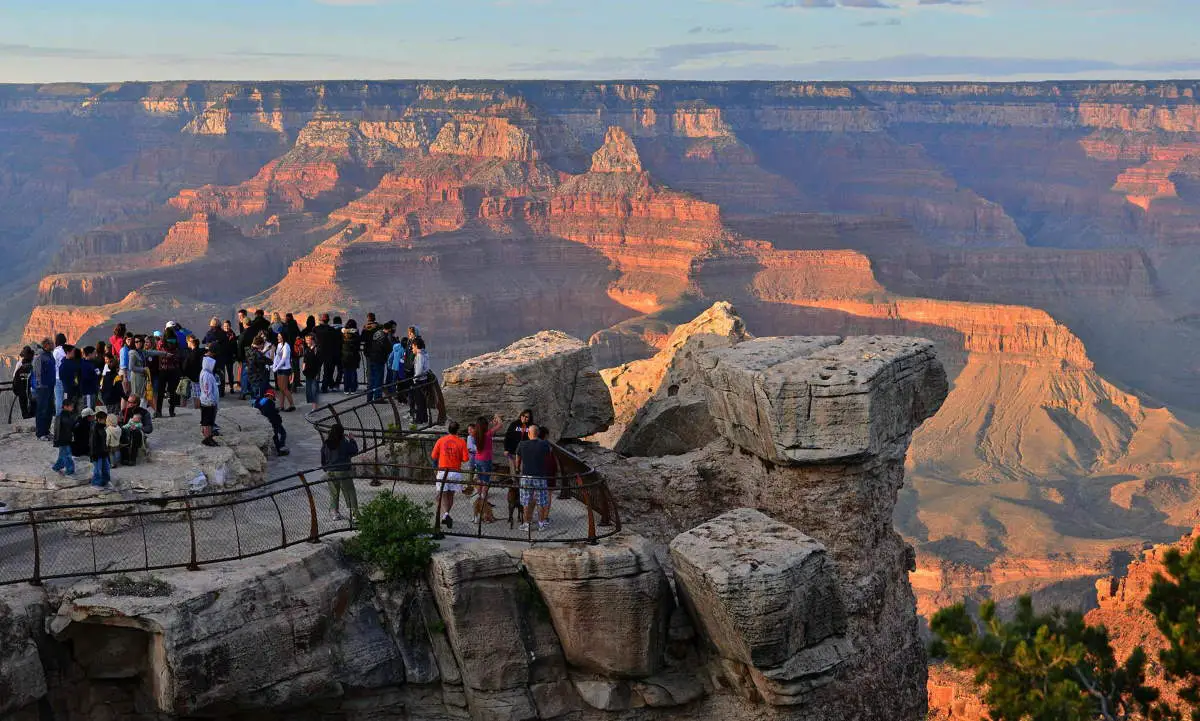 Well, as with all things, moderation and balance are key if we wish to preserve these treasures for generations to come. The impact of overtourism may bring detrimental results to some of the most iconic destinations the U.S. has to offer. Overtourism is essentially the concept of recognizing the environmental and cultural effects that derive from an excess of tourists overcrowding a location or destination.
In a 2017 study by The World Travel & Tourism Council and in partnership with McKinsey & Company, five main challenges were found in correlation with tourists overwhelming popular travel destinations:
Alienated local residents
Degraded tourist experience
Overloaded infrastructure
Damage to nature
Threats to culture and heritage
Certain destinations experience large influxes of visitors day-in and day-out, leaving natural ecosystems and societies subject to permanent damage. Aside from contributing to an increase in water consumption, air pollution, litter, and waste products, the surrounding social environment is left to face displacement and reduction in resources. Doesn't seem so sustainable after all, huh?
What's perhaps most ironic is the fact that National Parks are primarily designated out of a need to preserve and protect the swath of land they cover. These areas contain enormous amounts of natural resources and animal habitats, as well as hold much historical, recreational and educational significance. With these criteria in mind, it isn't surprising to learn there are only 61 recognized National Parks in the U.S., as established by the National Park System. Yet, there is little being done to control the crowds that infiltrate popular National Parks on a daily basis, perhaps defeating the whole intention behind giving them the prestigious "National Park" title.
In effort to embrace a more sustainable lifestyle and bring attention to other hidden gems, Reservations.com is raising awareness to 20 of the Least Visited National Parks in the U.S. On the list, you'll find amazing destinations from coast to coast, the visitors they received last year and a vintage style poster celebrating the natural beauty of each. There's a National Park to complement any vacation itinerary, so be sure to scroll through and take note of any that may match up with your 2020 travel plans.
All in all, our top tip to avoid contributing to overtourism and the negative impacts it has on our environment is to lead by example! By choosing to visit one of these lesser-known national parks, you're supporting the local economy and doing your part to help the world. Making an impact can start just by being a respectful tourist and more mindful of your travel plans.
20 Least Visited National Parks in the United States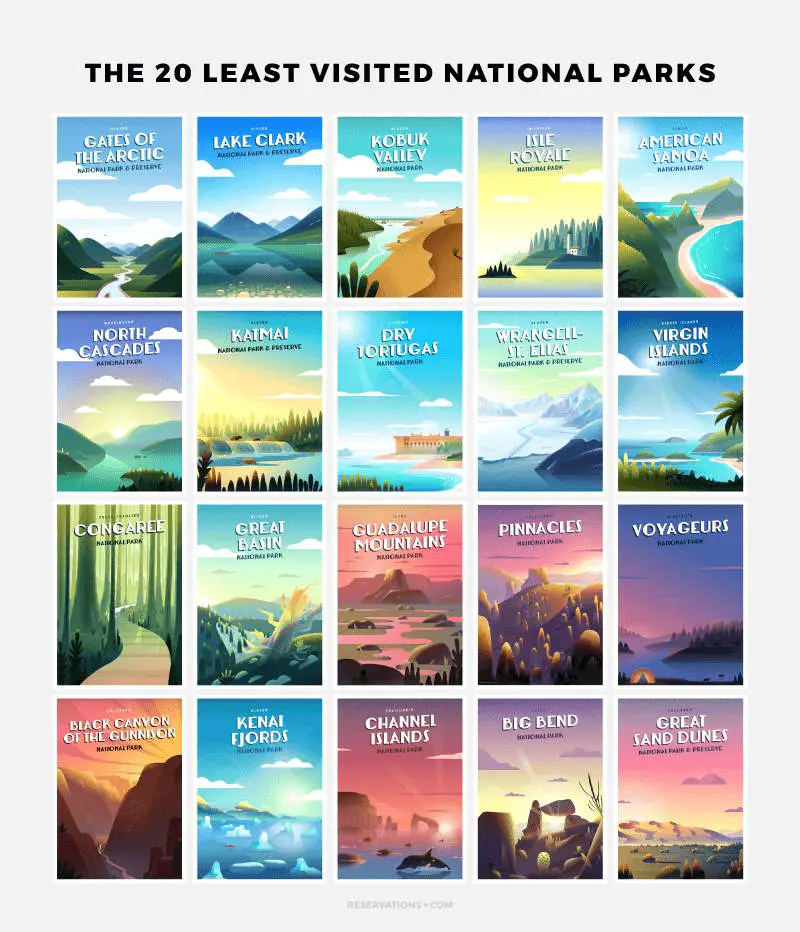 20. Great Sand Dunes National Park & Preserve, Colorado
Visits in 2018: 442,905
19. Big Bend National Park, Texas
Visits in 2018: 440,091
18. Channel Islands National Park, California
Visits in 2018: 366,250
17. Kenai Fjords National Park, Alaska
Visits in 2018: 321,596
16. Black Canyon of the Gunnison National Park, Colorado
Visits in 2018: 308,962
15. Voyageurs National Park, Minnesota
Visits in 2018: 239,656
14. Pinnacles National Park, California
Visits in 2018: 222,152
13. Guadalupe Mountains National Park, Texas
Visits in 2018: 172,347
12. Great Basin National Park, Nevada
Visits in 2018: 153,094
11. Congaree National Park, South Carolina
Visits in 2018: 145,929
10. Virgin Islands National Park, Virgin Islands
Visits in 2018: 112,287
9. Wrangell-St. Elias National Park and Preserve, Alaska
Visits in 2018: 79,450
8. Dry Tortugas National Park, Florida
Visits in 2018: 56,810
7. Katmai National Park and Preserve, Alaska
Visits in 2018: 37,818
6. North Cascades National Park, Washington
Visits in 2018: 30,085
5. National Park of American Samoa, American Samoa
Visits in 2018: 28,626
4. Isle Royal National Park, Michigan
Visits in 2018: 25,798
3. Kobuk Valley National Park, Alaska
Visits in 2018: 14,937
2. Lake Clark National Park and Preserve, Alaska
Visits in 2018: 14,479
1. Gates of the Arctic National Park and Preserve, Alaska
Visits in 2018: 9,591
I am a software developer, a former road racing cyclist, and a science enthusiast. Also an animal lover! I write about the planet Earth and science on this website, ourplnt.com. You can check out my social media profiles by clicking on their icons.
Latest posts by M. Özgür Nevres (see all)